12 easy steps to ruining a cars originality.
I bought a 40-Anniversary Carrera because it was an amazing amount of car for an amazing price. I am not afraid to change things up as long as it makes it a better car and is reversible for the purist in me. You know, in case I need to sell it to fund a hemorrhoidectomy or something.
Black accents, Lower, Louder and Bigger brakes. I'm done for now.
I'd like to think Porsche could have offered such a car in 2004.
Yes, the paint is perfect under that hideous black hood.
With just 35,000 miles on the odometer and 25,000 on the motor it is freaking NEW! Most people would assume it was an IMS failure that forced the dealer to buy it back and intal a 997 engine block, but that's pretty unlikely at 10K miles. Finding any X51 powered car at all is a win because nobody actually bought the X51 package.
I'd say the Carrera T is my benchmark. Not overly powerful, but well sorted for Touring.
It comes with something odd, a warranty. What would I do without the worry of breakage?
Have you driven an X51? Do your homework, this was Porsche's "backup" engine in development of the GT3. Read up and be impressed with me:
https://www.40jahre911.com/the-story-of-the-40-jahre-911
The 40Jahre is as close as I'm gonna get to a new 911. Many people put them away wrapped with baby diapers, like this one. When the 996 marked didn't explode like the 993 market these cars started to pop up for sale. And like any new sports car, for me it isn't an investment, just a incredibly preserved Porsche that i plan on driving the shit out of.
(yes! I ended a sentence with a preposition, pretty bold eh?)
Here are my 12 steps to ruining the originality of my car.
1. Sell the exclusive 40AE luggage to fund this blog
Buying the most maligned Carrera of our time left me with a little money left over but not enough. So I sold off the exclusive 40 AE luggage to have even more money to play with. I know I'll kick myself later, but bipolar car disorders come with some regrets.
Ash, enjoy them! They were sold for some worthy causes below




2. Embrace the 996 Headlights.
I am NOT going to deal with those fried egg lights. Something this polarizing must be celebrated. Think of it as Cindy Crawford's mole, but two of em.
I'm going full-on with #FriedEggPride
3. Pay tribute to the past with Cocomats.
These old-school mats were common in German cars 40 years ago like Carrera's and 356's. I think they have a place in an Anniversary Edition car. Made of
woven coconut fibers, we are recycling all that coconut water consumed by hipsters.
Custom a back window deck , just cut a template and mailed it to them.


Black and white hides Oreo crumbs well. Good thing.
4. Enhance wheel appearance with overpriced rotors.
The OEM wheels are too good to replace so I opted to enhance
behind
them instead. Giro-Discs are pretty, and the notable braking improvement was a side benefit. Lighter than the big 996 Turbo rotors too.
Bigger, lighter, floating design.
Better than black or red brakes but not equal to yellow. Painted em blue.
GiroDiscs are freaking expensive, hence the selling of the luggage
Do you wanna pack or do you want to stop?
5. Porsche Sport Exhaust, sort of.
Porsche failed by not adding a powerful exhaust note to match the more powerful X51 motor package. I have rectified this with Fister HD's mufflers, Fister has quickly become the gold standard for Porsche's. For 10% the cost of the sport exhaust option ($4500) you get the same design w/o the ability to turn it off. Who the hell would turn it off?
Recent PCA tour, Bruce's Seal Grey 996's ride height put me to shame.
Something had to be done, and fast.
6 Stance Stance Stance, $400
The 40 Jahre had the good sport suspension option included but being in the USA they were forced to make it a monster truck for DOT compliance. Some geniuses suggest I need new shocks designed to match my 1/2" drop in height. I called RUF and they set me straight.
RUF springs are same spring rate, just a tad lower.
Fister's don't need ceramic coating but I couldn't resist.
7. Making the car recognizable
Porsche went all out with a silver that's 10% different, Whoopie Do! Although GT Silver was an exclusive color, it isn't that distinctive. I solved this with a few hideous satin black accents for bedazlementation. I'll try to pass them off as OEM.
Inspired by the new 991T decal. I think these are pretty understated.
others have likened it to a tatoo on my face. Each to his own I guess
Man Cave hooked me up with my "blackening" thanks guys.
Rock chips are bad in colorado, so why not do some blackening.
8. Vanity Plates
It's easier for fill out Hotel forms if you have a plate you can memorize.
40 Jahre is German for 40 Fast years
9. iPhone Mount.
This I
can
do. And since its from
Suncoast, a Porsche specialty company, it costs $45
instead of $10. Worth every penny. iPHone mount, cheap thrills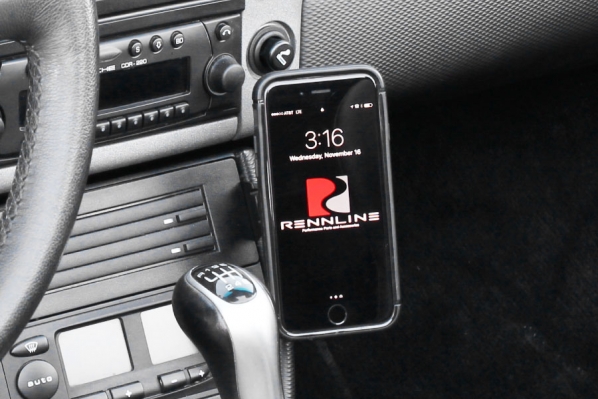 Worth every penny. iPHone mount, cheap thrills
10. Make your passengers comfortable.
While Porsche sells a child seat, but you really want one
w/out a
rmrests. It makes it easier to reach the seat-buckles.
11. I never found the Ruf Wheels I'd put on space #11
12. I really thought Apply Carplay would be in slot #12, but turns out you sacrifice too much originality in the forms of wiring modifications. I just couldn't stand doing that.
Love those hard backs. Kid loves em too.
What he doesn't like is the "no snacks" policy.
This is the monster truck stance, I have not yet photographed it with the European ride height.
Look below and you'll find it soon.
This is lowered to Euro height. Still clears the curbs and speed bumps.
I'm not a fan of drastic height changes. This is just how Porsche intended.
Brakes done, new springs not yet installed in this photo
Pretty sure the black hood should be removed, but till then it serves as good rock guard.